by Jonah
I surprised Berck by typing up an itinerary for the weekend.  If you knew how much I like to plan, you'd be surprised too.
Friday

Drive to Denver
Eat at Jack-n-Grill Mexican restaurant
Drive up the Peak to Peak Hwy
Eat supper at Mountain Sun Brewery in Boulder
Attend Eddie from Ohio concert in Denver

Saturday/Sunday

Option 1.

Drive to the end of Hay Creek Road in Monument
Backpack up the mountain into Pike National Forest
Camp out
Backpack out the next day

Option 2.

Load up Arthur and drive up Mt. Herman Road in Monument
Find a good place to pull off on one of the numerous side roads
Camp
Return the next day
Berck has had very early duty-in times the last couple of weeks and hasn't been sleeping much.  So he woke me up at 7 a.m. on Friday, like he always does when the sun comes streaming in our window, and then went back to sleep.  I, of course, couldn't and got up, then waited for three hours for him to finally do the same.
We didn't actually get on the road until 1o:47 and so got to Jack-n-Grill right before noon.  It was packed, as was its overflow parking lot across the ally in the back. We knew about Jack-n-Grill from Man Vs. Food, the show on the Food Channel where a guy roams around the country taking on ridiculous food eating challenges.  Since we don't have a TV, we knew about Jack-n-Grill from the Wikipedia page on the show, which Berck read to me one evening.
Jack-n-Grill has a 7 lb. breakfast burrito.  If you're a girl and you finish it, you get to eat at Jack-n-Grill for free for the rest of your life.  Instead, after waiting for a seat for a little while, Berck got the regularly sized breakfast burrito, of which he could only eat half, and I ordered the bacon lovers' burger.  To give you some perspective about how big this burger is, the fries in the blurry picture below are not steak fries.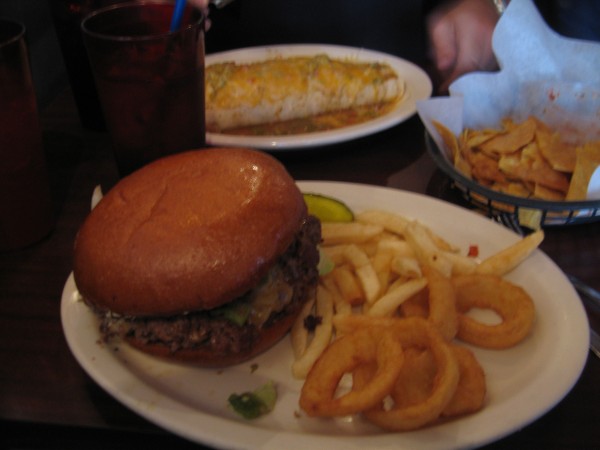 Their burgers are so big that they have to make their own oversized yummy buns for them.  I could only eat half of the burger, which came with lots of bacon and green chilis, but it was all in the middle of the patty and took a while to get to.
We decided that King's Chef has far better breakfast burritos (though why get that when you can get their "Thing"), and their burgers, while not as big, and fries are much better too.  Berck said, "I hope they" meaning the Food Network "don't find out about King's Chef, because then I'll never get in."
Back in the car, it was hot, and we headed west on I-70, then turned off on 6 from Golden, which is one of the most beautiful drives in Colorado, and also one of the most choked with cars.  Fortunately, the higher you driver, the cooler it gets.  We headed north on the so-called Peak to Peak Highway.  Slow moving traffic was pretty heavy until everyone turned off at the casino at Black Hawk.  Then it started to rain, but if you don't go under 40 mph in the Miata, you won't get wet, though I got pretty cold and regretted leaving my jacket in the trunk.
The Peak to Peak Highway ends in beautiful, but utterly touristy Estes Park.  I think this picture pretty much sums up the place: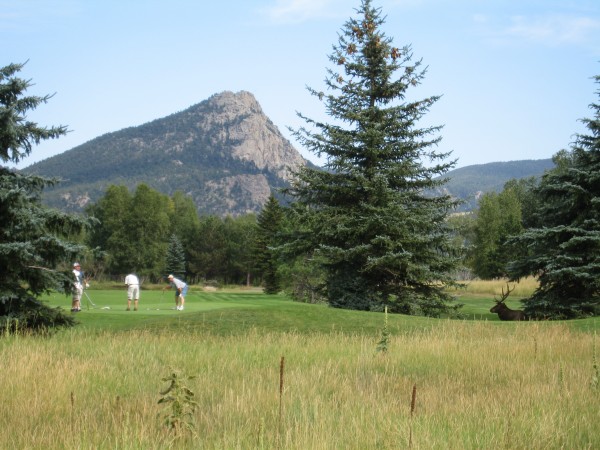 We watched a biker walk up very close to take a picture of the elk, and I got my camera out in case anything interesting happened.  But the elk just ignored him.
Next we headed back to Denver via Boulder and ran into rush hour, Labor Day Weekend Friday traffic.  But we eventually made it.  Berck suggested we go to the Cheeky Monk instead of Mountain Sun, which was my original idea, but I'd scuttled it so that we wouldn't have to drive through rush hour traffic in Denver.  Other than the middle of Colfax being shut down for some festival, we got there easily and parked right out front.
I think the Cheeky Monk is our favorite restaurant in Denver (other than Fogo de Chao, which apparently just opened a restaurant there).  It sports tons of Belgian beers on tap and more in bottles.  The food is really good.  And we were pleasantly surprised to have the same waitress we had last time, who is Berck's favorite waitress in the world.  Taisiya is extremely knowledgeable about the beer, makes good suggestions on the food, and has a Slavic accent.  (Berck finally gave in and asked her where she was from this time: Russia.)  She and Berck traded stories about wanting to steal beer glasses while in Belgium in college (whereas I actually did walk around half of Europe with a beer glass in my backpack, but that's a story for another time).  She let us know that pomme frites, the cheese platter, and the sausage appetizer were all half price because it was happy hour, so of course we ordered the sausage (the fries were a given).  As we were sharing a grilled, sliced chicken sausage, Berck said, "Maybe that's what we should do tomorrow instead of camping."  Berck was still suffering from sleep deprivation, and he needed a comfy bed more than a night in a sleeping bag on uneven ground.  "We could go to Whole Foods and get one of each of their sausages."
"And have a Labor Day cookout!" I agreed.
I always let Berck pick my Belgian beers.  I generally don't care for the typical Belgian beer; I'm more  a German girl, myself (never had one I didn't like).  Berck knows more about beer than I do, especially his favorite nationality, and he also knows exactly what I like when it comes to beer.  He selected one for me from the beer menu, but our waitress, paused and then informed us that they didn't have it on tap at the moment but did have it in the bottle.  But she suggested another beer, which Berck was also familiar with.  Berck thought it might be too spicy, but she ran and got a little taste for me.  I decided it tasted delicious, and it was actually perfect with all those sausages.
Since I was driving to the concert, I only had the one, so Berck could have more than one.  Berck always orders Kwak when he gets a chance because of the glass: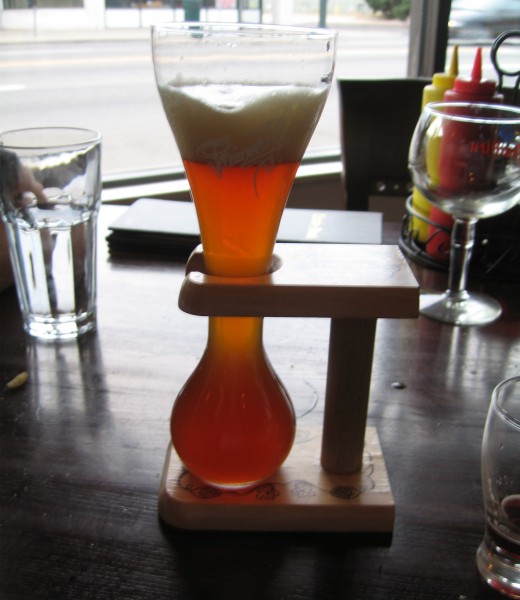 Yes, you drink it by holding the wooden holder.  I was still pretty full from breakfast, but Berck decided to order the mussels too.  Remember how Berck doesn't like seafood?  Apparently, that doesn't include mussels.  We got them in cream with leeks and mushrooms.  Sigh, so delicious.  I even got our waitress to bring us another half loaf of bread to mop up more of the leeky cream with, it was so good.
Alas, it was soon time to head to the concert.  I took Broadway all the way down and discovered the magic of Broadway's timed lights.  We got there in no time, despite leaving much later than we'd planned so Berck could finish his Kwak.
The Swallow Hill Music Association is in an old church building.  We like to sit on the front row of the balcony, from which you can have a great view.  The guy opening for Eddie played the fiddle and sang with his guitar.  We liked him and could see why EFO had picked him to tour with them.  When they started playing, we really saw why: they use him as their fiddler/mandolin player!  He's not as tight as they are, but the fiddle really ads to some of their songs that are supposed to have it.  They were as great as always.  They mentioned that the last time they had been to Denver was three years ago, which is when we saw them last.  Julie was recovering from breast cancer and had awfully short hair and looked painfully thin and very fragile.  This time she had long hair, danced on stage in her bare feet, and looked healthily curvy again.  It was actually quite a relief.  They don't tour very much anymore and were only in Colorado for the Pagosa Springs Folk Festival.  It was a good concert and funny as always (they revealed that Mike names all their vehicles, including their rental cars–their current ones were a white sedan named Marshmallow and a undetermined color minivan called Swine Flu).  We did the "Joe" when they played "Three Fine Daughters of Farmer Brown" and saw one other person doing it on the front row over on the right.  When the concert was over, the guy next to me in a soft Virginia accent asked, "Have you seen them before?  Because I saw you doing that thing during 'Three Fine Daughters of Farmer Brown.'  That's what Julie's dad does."
When it was over, I had to drive home too, but, let me tell you, it's a much quicker drive from the south end of Denver than from the airport.
Saturday, Berck made us eggs Berckadict, which is apparently English muffins toasted in a bunch of butter in a skillet, poached eggs, pepper bacon, and Bernaise sauce.  We ended up with a lot of Bernaise because Berck kept pushing it too far in the food processor and having to start over with another egg yolk.
I was reading my book on the couch when Berck asked me what I wanted to do this weekend.  I told him I had already given him two proposals, and I wasn't coming up with any more.  "Want to fix my car seat?" he asked, to which I readily agreed.  I drove up to Boulder a long time ago to pick up a free driver's seat, but the top of the vinyl was in bad shape, while the piece on Berck's existing seat was fine.  The car seat has been sitting in our living room ever since until we would have time to fix it.  So Berck removed the cover from the new seat, and I ripped the piece I needed off the old seat, then set about sewing it onto the new seat cover.  Berck asked if were going to be done that day.  I'll be done before you leave on Monday, I said, and, in fact, I stitched my last stitch during STTNG after supper.
For supper we did indeed have the sausages along with Berck's new method of cooking potatoes, which, if you haven't had yet, is pretty amazing.  Also he sauteed onions and peppers but then added cream and flour…yum!  Of course, we couldn't remember which sausages we'd ordered or which ones were which, so each one was a surprise.  We tried the gourmet mustard Berck got us in Durango: Backside stout for him, habenero cherry for me.  He thought I'd like it, and he was right; I love it!
Sunday Berck actually let me sleep in until nine.  He told me about the dream he'd had; his Miata could convert into an airplane.  I told him that was pretty funny because I'd dreamed that he let me borrow his plane, which you could take the wings and yoke off of, put on a steering wheel and drive down the road in.
We watched Into the Wild instead of camping.
I went to Safeway twice, once to by Resolve, because Berck decided he needed to spot clean the carpet, and once to get fresh mozzarella, because Berck decided to make pizza.   Ever since Berck learned how to make Italian style pizza when he got the book American Pie as a present, his pizza has been phenomenal.  Only thing is he has to make the dough a day ahead of time, though this time I convinced him that 7 hours ahead of time would probably work okay (it has!).
Isn't it cute how he put all his prepped toppings in little bowls like on a cooking show?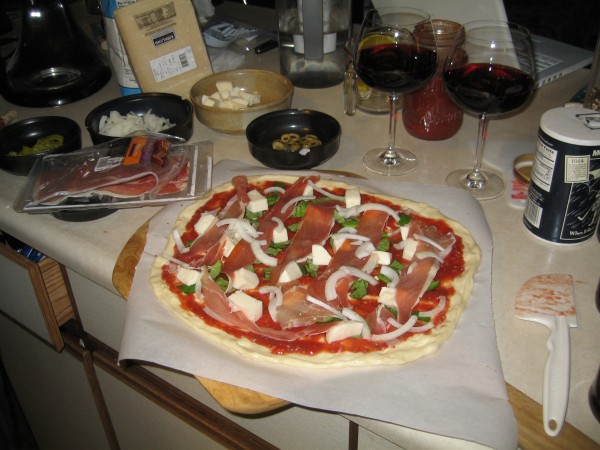 Here he is carefully watching the oven until the pizza is cooked just right (at 500, it cooks pretty quickly).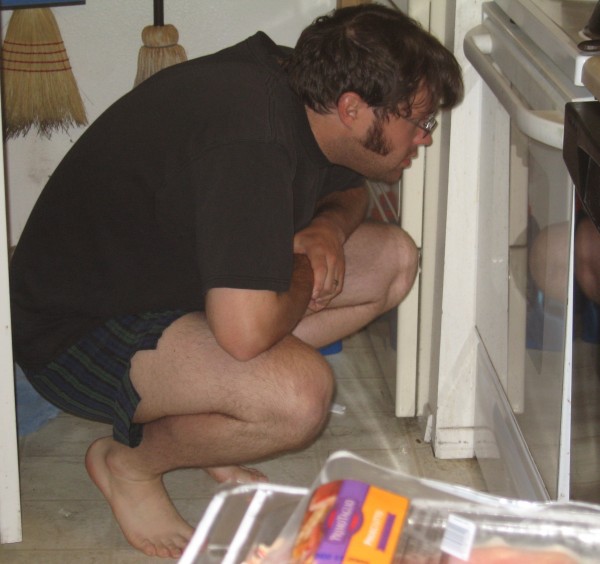 And the delicious finished product!
Berck had to go back to work Monday, so I have to spend Labor Day by myself.  But I'm actually looking forward to finally getting the laundry done.  I'm off this coming Friday too, so I'll only have a three-day work week.  How about that?