5 November 2022 at 3:45 pm
by Jonah
My office had a potluck, and the theme was to bring something from your home state. Since hardly anyone is originally from Colorado, this works really well. I'm originally from Georgia, so I brought Brunswick stew.
Brunswick stew is one of my favorite things. There's nothing that tastes quite like it, the saltiness of the meat and the sweetness and crunch of the corn. I just love it.
It's been a long time since I've made Brunswick stew with my mom, so I e-mailed her. She said she didn't use a recipe, just made sure to use shoepeg corn (couldn't find any) and butter beans (finally found some canned ones at one of the multiple grocery stores I went to. Then she sent me this recipe: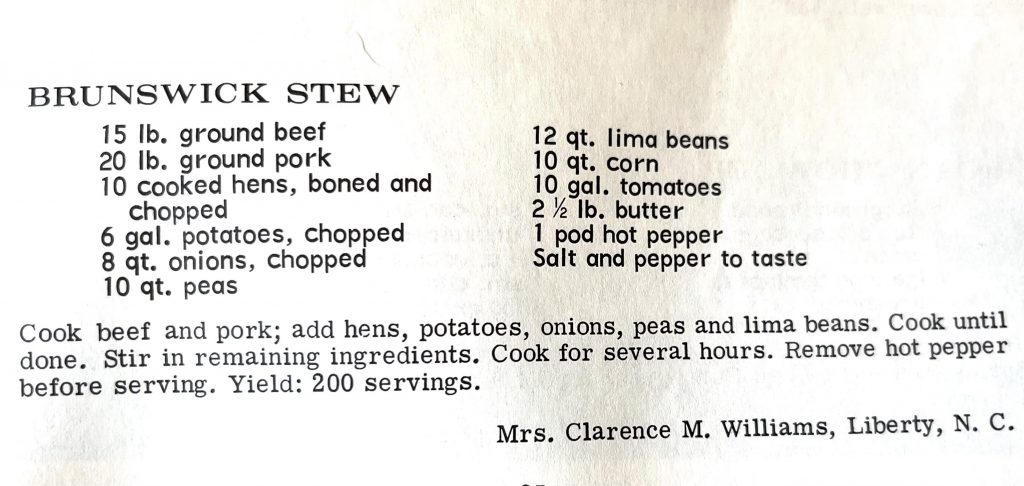 So I made this recipe but a 20th of it. I tried to make some pulled pork, but Berck took over because I was doing it wrong. I used butter beans instead of peas, and I didn't add potatoes. And it was really good! I brought it to work in a crockpot with a little placard with the recipe and saying that Brunswick stew is typically made with squirrel, rabbit, and 'possum, but I couldn't catch any of those critters in my yard, so I made it with ground beef, chicken, ham, and my husband's spicy pulled pork.
It was a hit! One of the attorneys I don't know came and found me and said she'd never heard of it and it was like nothing she'd ever tasted and she was going back for seconds because it was so good. She told everyone else in the office to try it. One of the other legal assistants told me later that she'd saved some to have for lunch the next day and that any time I felt like bringing in another pot would be fine by her.