2 August 2014 at 10:44 pm
by Jonah
Saturday, August 2
Berck's phone rang at 2:50 a.m.  He answered it but no one was there.  Then my phone immediately started ringing.  Since my number is one after his, it seemed like something was calling every number. I don't know if it was the motion sickness patch or because it was so early, but it was hard to get up.  We had to get up early because the taxi was arriving at 6:45.  The taxi ride was less than $9!  It was $10 to park at the EAA event, $1 to ride the city bus, and $1.50 to ride on the EAA bus.  Maybe we should have been taking the taxi each time.
The FBO had our plane ready.  We put up our VFR sign in our windshield as we taxied toward the runway and listened silently to the radio to find out when we were allowed to depart.  I watched the controllers on the ground giving us directions while the guys were fooling with the electronics.  We were waved up the same time as a plane from the other side of the runway, and we took off together.  That was unnerving.  We headed west into a lot of haze.  Chicago Center wouldn't give us flight following, so we all kept our eyes open for traffic.
We flew high, and for the second time on the trip I was happy I had my Google hoodie sweatshirt to put on because it was pretty chilly.  (The first time was using it as a pillow while I napped in the plane.)
Our original destination with cheap gas turned out to have a pretty short runway, so Uncle Stacy looked for an alternative while Berck flew and complained about the weather.  We decided on Boones, Iowa.  In Boone we had to keep track of a plane in the pattern and a helicopter, which I spotted first.  We filled up with auto gas (which is cheaper) and emptied our bladders.  To take off we had to wait for some parachutists to land on the airfield before we could go.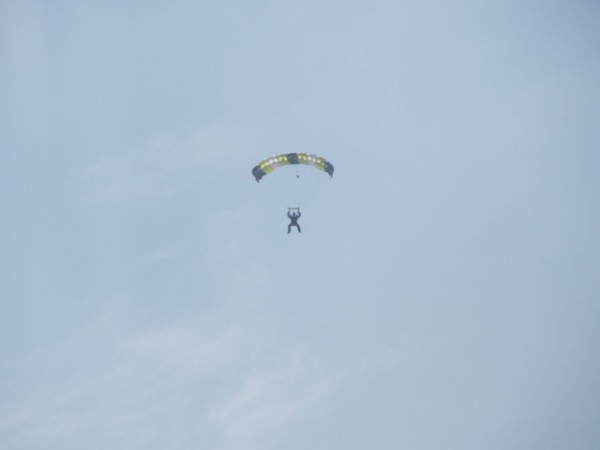 We headed west from there over Omaha, then headed south to avoid some weather.  We landed in McCook, Nebraska to get some fuel.  Amusingly, the "courtesy hoopoe," Berck and I had borrowed to go out to breakfast in McCook when we were taking the Air Force trainers to Rockford in 2007, was still there at the FBO.  We got back in the plane, headed back out to the runway, did a run up, and took off.  The plane was climbing very slowly and then the engine started sputtering.  Berck announced it was the right magneto but didn't turn back to the runway.  The engine got some more life into it, and Berck turned around as he announced on the radio that we were coming back to land.  "I was five seconds from putting it in that field," he said.  We landed without difficulty and taxied back to the FBO.  No one was there, so we let the engine rest a bit and tried it up again.  It was still running rough.  So we taxied back to the FBO again.  There was not a mechanic on duty, but the guys talked to one on the phone, who suggested cleaning off the spark plugs.  A couple of grease monkeys helped them with that task.  A couple hours later and a lot of carbon removed, the engine was running much better, and we took off, this time with no problem.
We made it all the way to the Springs without incident.  I was able to find traffic faster than anybody else.  The folks at Cutter Aviation put the Cherokee in a hanger, and we loaded up the car we'd left there for ten days.  Then we drove up to Black Forest to pick up the Professor, then drove to Randy's house to pick up our bag we'd sent with him.  Then we had supper at McGinty's.  Now we're about read to collapse into bed.
And I think the Professor has finally forgiven us.