2 April 2011 at 2:49 pm
by Jonah
How to exist in the US without valid ID
It isn't easy.
We were in Denver at a bar with an hour to kill before we needed to head to the airport for our red-eye to JFK when I realized that I didn't have my ID. Or my wallet at all. In the winter I generally keep it in the inside breast pocket of my leather jacket, which I wear everywhere. Except on trips. Then I wear my waterproof shell.
I'd come home from working late at work and had to finish packing and head up to Denver with only about an hour to spare. I kept trying to remember what I might have forgotten. Gloves? Socks? I even looked at my passport and thought I wouldn't possibly need it.
So we got to the airport a little early, since there was no physical way for me to drive home to get my wallet, drive back, and make the flight.
The TSA in Denver was very nice. They asked if I had any credit cards, even a Sam's card. I told them those things were all in my wallet, which was back in Colorado Springs. A guy took me over to a table to the side and said, "Wait here, I'll go get the book." He returned with a big three-ring binder, flipped through it, and dialed a number on a cordless phone. He told me he'd ask me some questions that only I would know, which the folks at the other end of the line would ask. He asked for a close relative. I told him my dad, and he asked how old he was. Then he asked if I knew the names of any of my neighbors. I only know their first names, so I told him Kathy, Becki, and John. Apparently, that was enough. I was free to continue through screening. I passed through a magnetometer, but my husband, who'd gone ahead, was required to go through the body scanner, which he opted out of, so he got the full pat-down. I actually was done with screening and had to wait for him.
Couldn't sleep on the flight. Knees were too uncomfortable and I was too worried about not getting into the show Sydney wanted to take us to on Thursday without my ID.
Made it to Kelsey and Liz's by about 8 in the morning. We woke them up and dropped off our stuff. Liz had to go to work, but Kelsey went with us to Sydney's, where we met up with Ben and Amanda. We walked to Tom's, and didn't have to wait too long for a table, and they fed us orange slices and cookies in line.
I had the hash, which is okay. I think their waffles are probably much better. Also, their fries are amazing, much better than their home-fries. Kelsey discovered this.
It was such a nice day, so we decided to do the Stanton Island Ferry next. Kelsey had to let the dog Clementine out and then head to work, so he didn't join us. We went one direction, then waited for the return ferry and rode back.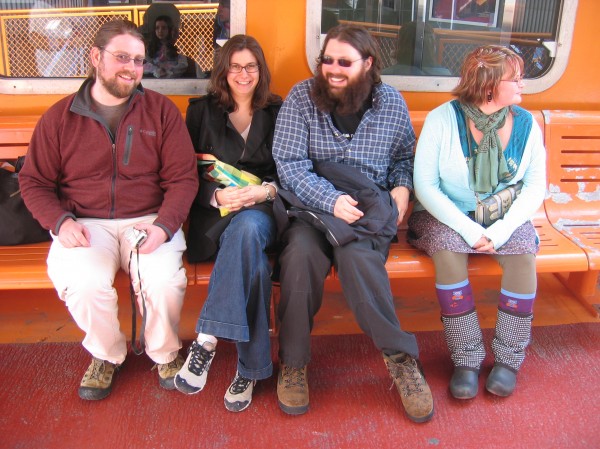 Berck and Amanda did yoga-in-unexpected-places in front of the Statue of Liberty.
We got off the subway at W4 to find a street fair in progress. Ben asked this spice vendor if he could take his picture, and the guy replied, "Five dollars!"
Berck got a fantastic beef souvlaki, we stopped for a Papaya Dog, then we stopped by a pub with a fantastic beer list and got some great brews.

Next we headed out on the 7 to Flushing to celebrate Amanda's birthday eating Thai food. Berck was making all the Asians on the train really nervous.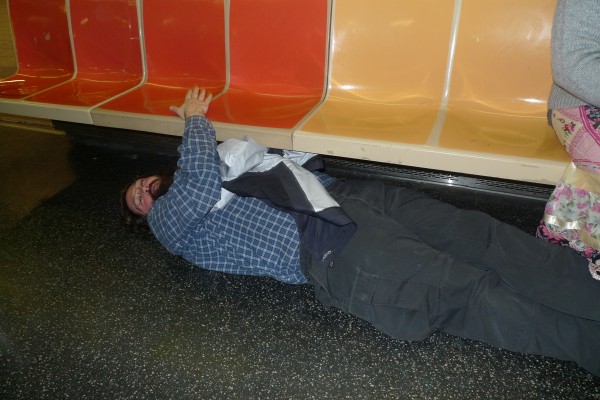 While waiting for a train, Berck disappeared down part of the platform that was curtained off and returned with a birthday present for Amanda, a pipe bracelet:
We went to the Thai place that's right off the 7. We had to wait a while for a table, but we could use the bathroom while we waited. Berck, Ben, and Amanda went to the Himalayan Quick Mart across the street and bought some firehot snacks, but by that time, they had a table for us. We each ordered something different, and a bunch of appetizers. They brought each thing out at a different time. Ben researched on his Droid that Laobeer was awesome, and it was, so we got a bunch of those. I got a Thai ice bubble coffee, because I was going to fall asleep otherwise. Of course, like any place that serves hot food, they stopped serving us water as soon as they brought out the hottest dishes, so I ate very little of my superhot drunken noodles. The pad thai was very good, though. Berck accidentally ordered fried rice, but it was fantastic. Ben ordered a plate of bacon, which was chunks of pork belly. It was AMAZING. We shared everything.
Berck and I started falling asleep at the table because we'd basically been up for 36 hours at that point.
We called it a night and went back to the Kliz and collapsed around 10:30. That airmattress felt better than any drug could possibly have felt.
We slept about 10 hours and got up way too soon Sunday morning. Berck wanted to meet everyone Sunday morning at Miriam's in Brooklyn for breakfast, but Liz was still getting ready for work by the time my alarm went off. We waited a little for Kelsey, but he still had to walk the dog, so we left without him. We were waiting for a train, but two locals passed us by before Berck decided that we just weren't going to catch an express and weren't going to make it in time. He told Kelsey to call him and told Ben to eat without us. In the meantime, Kelsey had taken a cab to the train, where he'd hopped on the express DOWNSTAIRS and met Ben and Amanda right as they were finishing. The three of them joined us in the Lower East Side where we went to a great place called Alias that served fried chicken and waffles, which were fantastic. Berck got the brisket breakfast burrito…only in New York! We ate at the bar until the rest of them joined us, where Kelsey finally got some brunch, and Ben and Amanda had a snack of biscuits and gravy, and we all split a carafe of sangria.
Next we got to the Tenement Museum right before out tour started. Sydney got there right after it started, but we stalled the tour-guide a little by asking questions. Syd had had to get some work done before she could join us. The tour was great, and we even went long because of all the questions we asked.
Next we headed up to Kelsey's apartment because he wanted to walk the dog, loan Amanda some warm clothes, since she had apparently not read Sydney's e-mail warning them it would be cold, and drink a bunch of beer. We walked up 1st to get some dumplings, but then Sydney decided to get some Chinese noodles instead. She was the only one who was hungry because she had been working instead of joining us for brunch. Berck got a lamburger with curry. Lots of curry. Then we were heading up to one of the new express buses, but the light turned and we couldn't cross even though Kelsey had run ahead. He got the express machines ready for us so all we had to do was insert our Metro cards and then it would spit out receipts. Fortunately, a wheelchair had been loading, which was the only reason we were able to get on. We made it back up to his place, which is just off of 1st, in no time.
Kelsey invented Guinness Scotch bombs, and we put the hurt on his Costco bulk supply of Delirium Tremens. Sydney still had to do a couple of work things, which she was able to do on one of the collections of MacBooks. By the time we were heading down to Sushi Samba, where Kelsey works and got us a tremendous discount, we were all feeling pretty happy. Kelsey's co-worker Lauren joined us, and contributed a couple of bottles of sake. Our waiter David kept us well supplied with sake. It was pretty cool. Even if we couldn't get any Japanese river crabs because of the earthquake.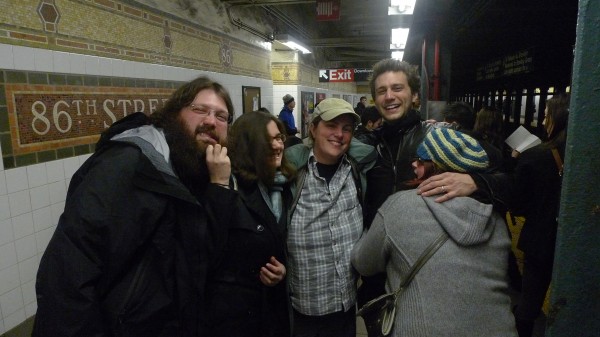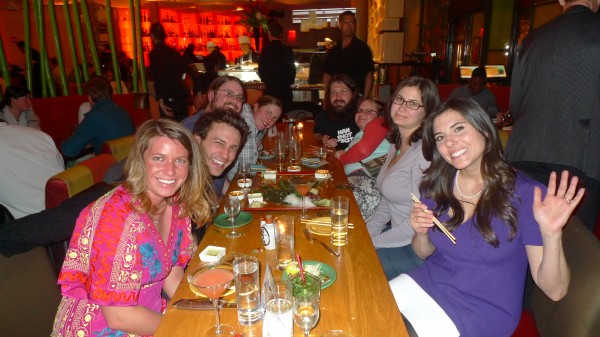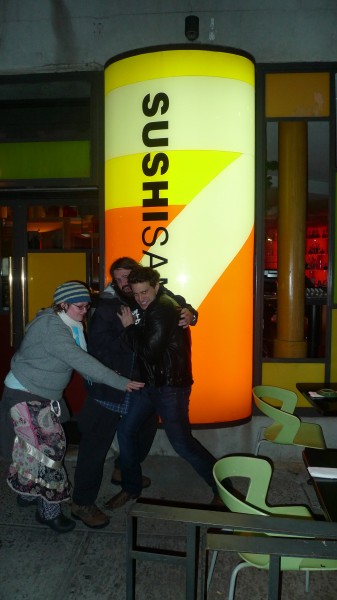 I insisted on getting gelato afterwards since I'd apparently been too busy drinking sake (David made sure all of our glasses never emptied) to actually eat sushi and was still hungry.
Kelsey flagged us down a minivan taxi, which is a great way to get 6 people home.
Monday we got burgers for lunch with Kelsey at Peter Luger's Steakhouse. They take their leftover steak and make the burgers, top them with melted cheese, and then serve them with the thick slabs of "bacon" (more like chunks of pork belly). We also got some fantastic beer that we couldn't understand the name of.
We were enjoying these when Ben decided to try once more to see if we could get tickets to see the Daily Show, which he'd been trying to do for months with no success. Suddenly, there were tickets to the Thursday show, which then disappeared as he was filling out the form, but then some showed up for TODAY. We knew we'd have to head over there directly after lunch and the instructions said to be sure to bring your printout and photo ID. Well, I didn't have any ID, but Kelsey had hooked me up with his motorcycle learner's permit. I don't look anything like Kelsey, but it was a valid ID…for him. We debated whether or not we needed to stop at a Kinkos on the way to the Daily Show, which is WAY over on the West Side, to print out our reservation, but decided that in this day and age, if they couldn't accept an Android screen, well, that was just stupid. So walked all the way down from the subway stop and made our way around the back to the back of the line. A guy was telling the people in front of us that they should be able to get in but that, while the tickets were free, there was no guarantee that they'd get in, even with the reservations made online. About that time Ben got an e-mail from the Daily Show saying that a smartphone screen showing proof of tickets was enough. Now we just had to find out if my ID would get me in.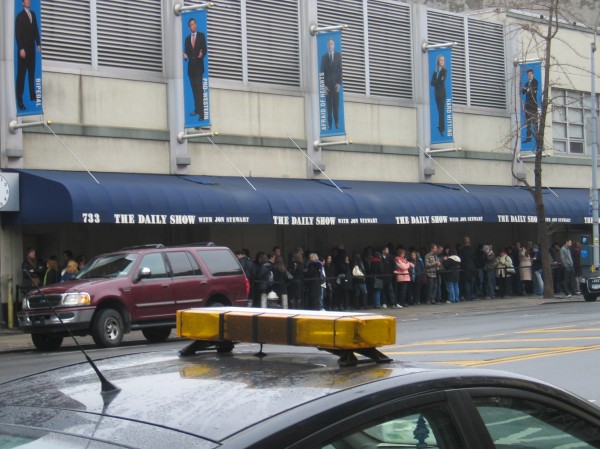 We waited for two hours in the chilly weather…at least it had stopped raining…chatting with the people in front and back of us. Finally, they came by and verified that we were on the list and handed us tickets. We got THE LAST FOUR CONFIRMED TICKETS. The guy behind us got a conditional ticket which meant that he would get in if no VIPs showed up, but if he didn't get in, he'd get a VIP ticket for another show and wouldn't have to wait at all. He didn't want that because he had to go back to Chicago the next day. After the group of people behind us got conditional tickets, there was a whole line of people behind them who had no hope of getting in and just had to leave. Several people came out at separate times and told us NOT to ask Jon Stewart for an autograph.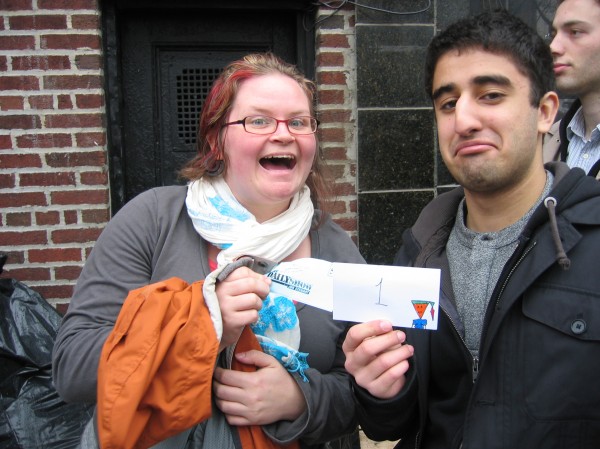 We waited some more and finally got to go in. They made everyone go through a metal detector. You had to check all backpacks and claim them with your photo ID, so Ben checked my bag for me. Otherwise, we didn't need IDs at all! We were seated in the very last row in the very corner, but it turned out that was pretty good, because there are all sorts of cameras that get all over the set and block the view of the folks in the front rows. Even so, the guy behind us who had arrived by himself got to sit right in the front row in the middle, which was pretty cool for him.
A guy came out to warm us up and tell us to laugh really loud. Then Jon came out and asked if anyone had any questions. A bunch of people asked silly questions. One lady asked if he would do the honor of naming one of her fish. "How about Almost Dead?" he suggested. "No, wait. Flushy." Another lady asked if he'd ever shave his head like her friend next to her. "Not on purpose," he said. "Why did you shave yours?" The guy answered that he'd done it for charity for kids with cancer. "Well, now you've made me look like an asshole," Jon said. "I would shave my ass for charity. I'd shave my ass for lupus."
Then the show started. Jon said that when they'd left the biggest trouble spots in the world were Wisconsin and the set of Two and a Half Men. In the meantime there had been an earthquake, a tsunami, a nuclear disaster, and we'd started a new war in Libya. It was fun to watch the show in real life. All of the live stuff isn't really miked so the audience can hear it, because they have us miked for our laughter and applause. So you can barely hear what they're saying from the speakers under the seats. The pre-made clips are very loud. And of course, we're laughing very loudly, so we can't hear half of what's said. I didn't feel like I'd seen the whole thing until we watched the actual episode when we got home.
The guest was Sarah Vowell, who I am a HUGE fan of. Ben even got me a signed book by her once. I've read two of her books, listened to all of her This American Life pieces, and gone through and watched all of her appearances on the Daily Show. So I can't think of a guest I'd like to see more. It was very fun, and the interview went long so they had to "throw it up on the Web."
When it was over, we couldn't decide what to do, so we ducked into a bar that had pitchers of Blue Moon for $10. For some reason, the waitress decided to check all our ID's. She was handing me mine back and realized that I didn't look anything like the guy on it. However, she was somehow satisfied with a photocopy of my passport, which I always keep in my backpack in case I'm traveling overseas.
We decided to stop by Sydney's and have a drink then go over to Franny's for supper. I'd never been, despite finding it for Berck. It did not disappoint. We had some appetizers, a couple of pizzas, a bottle of wine, and some dessert that were all incredible. Then we went back to Sydney's for another drink before Berck and I called it a night and headed back. It takes sooo long to get from one sibling's house to the other's. We both fell asleep on the way trip back, waking up in time to get off the train an hour after starting out.
Tuesday we slept in. Berck and I grabbed a bagel from a place on our walk from Kliz to the Guggenheim. We met Ben and Amanda there. The stupid elevator was out of service, so we hiked all the way to the top via the stairs and then worked our way down. We got the free audio guides, but they were worthless, and in the wrong order, since they started at the bottom. All but one of the video installations were not worthwhile. There was one that was just basically an interview with the attorney who is serving 10 years for helping her terrorism client. I'm sorry, but that just isn't art. That's a news special.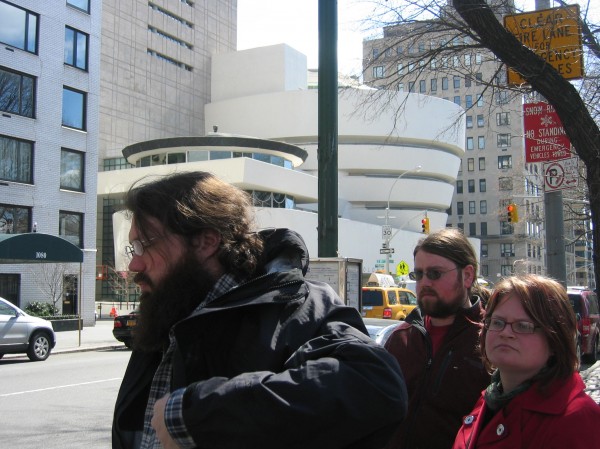 We took a 5th Ave bus down to 32nd and met Syd for some Korean BBQ. This was quite a production. We had no idea what to order, so we just asked for three BBQ plates and a pancake. Then they started bringing us random things, which ended up all being garnishes. There was kimchi, slaw, something tasty we couldn't identify, fish, broccoli, mushrooms, half a head of Romaine lettuce, various dumpling/soy sauces, etc. They also brought out two souffles, which were apparently on the house. The waitress told me, "Just eat." I tried to eat it with my chopsticks, and she said, "No, use spoon." Eventually, a guy came out and removed the metal plate in the front of our table to reveal a cavity, into which he placed a very hot caldron of hot coals with a pair of tongs. On this he placed a grill and then spread a few thinly sliced strips of beef on it. He would come over occasionally and flip them then told us finally it was ready, and we would pick the pieces up with our metal chopsticks. Then he would start the next batch of meet. It was a pretty impressive set-up. We eventually decided by looking at the people sitting around us that we should make little lettuce wraps with the newly cooked meat and garnishes.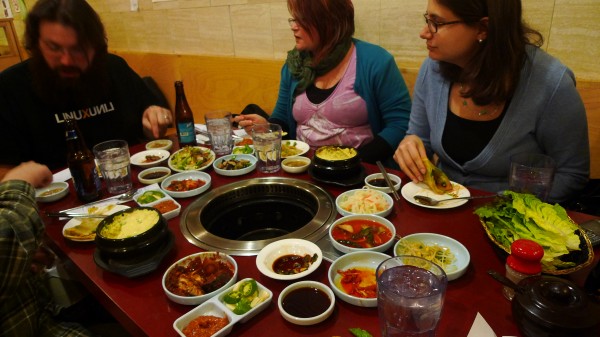 We said goodbye to Syd, who had to go back to work. Next we headed we wandered around the East Village, got some Pomme Fritte with some poutine, headed into Chinatown and got some ice-cream at the Ice Cream Factory.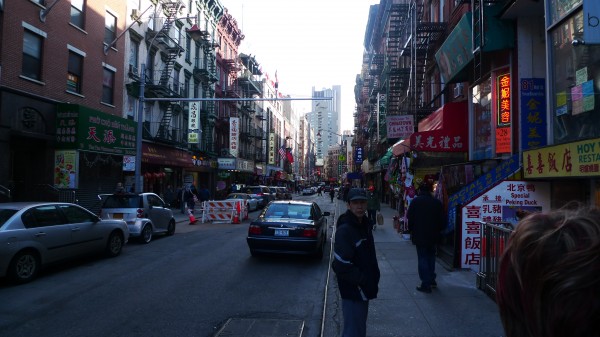 I got Zen Butter, which was toasted sesame seed…I thought it was fantastic. Berck got custard, Amanda got lychee, and Ben got red bean. Then we ate our ice-cream as we walked toward the Brooklyn Bridge. We walked across it and were disappointed to discover that half of it was covered in white tarps, so you could only see out of it for half the trip across.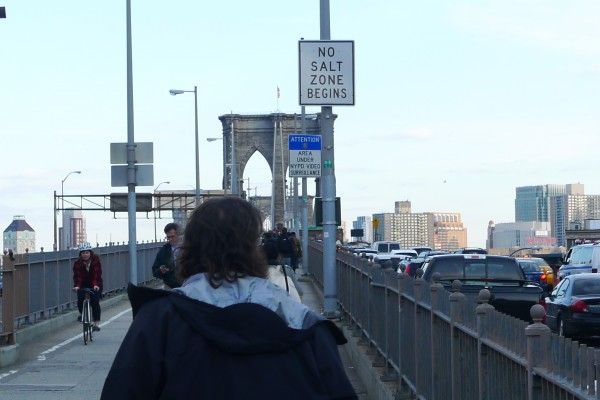 This whole time Kelsey was supposed to be joining us, but the cat Oberon had knocked over a bunch of glass and crockery and was leaving bloody footprints all over the place. Liz took off work and come home to check on Obie, who turned out to be just fine. Kelsey tried to catch up with us on the bridge, but we all ended up meeting at Rothschild's, a bar in Brooklyn, which Berck had beat us all to because he had to go to the bathroom. They had a cool loft with couches, so we chilled up there and joined Liz when she arrived. The poor waiter had to climb up and down a ladder to bring us more drinks. Then we headed to near the end of the R line for Yemeni food.
We were the only people in the place, so we were glad we'd made reservations…so they wouldn't close. The proprietor wanted to tell us all about the dishes, but we just insisted he bring us stuff. We had the most amazing meal of lamb broth, an omelet cooked in a clay pot, some "refried" beans, and three kinds of lamb dishes, all with lots of Yemeni flat bread called kobz. We all got tea at the end, and then the guy told us that he had a special desert if we were interested that wasn't even on the menu. He brought it out to us, and it took up nearly a whole table. It was layers of dough like phyllo topped with honey that we had to eat with our hands.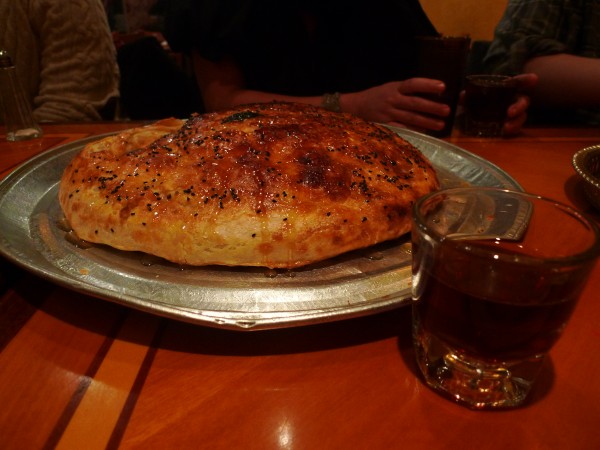 We also got an order of food to go for Sydney, who was at Salsa class. For the 7 of us, the total order was $107. It was fantastic. The proprietor made the waiter, who was dressed up in traditional garb with a skirt and turban dance for us with a dagger, and then made Kelsey dance with him too. Ben took a video, which he promised to share.
The Kliz headed back home, and we went down the street to a hookah bar. The hostess talked us into this tobacco that tasted like berry flavored cough syrup. Berck and I couldn't stand it, but I enjoyed my hot cinnamon drink. We stayed there an hour or until Ben and Amanda got tired of it, then headed for the subway.
That late at night, you have to wait quite for the train a while, and while we were waiting, a black guy in red tennis shoes and a stocking cap started wandered toward us on the platform and talking to us. Berck and I thought it was another crazy guy and ignored him, until he got closer and said, "There were six of you, you lost two?" And suddenly we realized who it was. He said, "You know who I am, right? I'm Mohammed the waiter." The guy who danced for us! So we chatted with him the whole way until his stop. His cousin is the proprietor, and he came over from Yemen a year ago. He said they'd throw him in prison if he went back at the moment, so he hopes things change there soon. He's working hard trying to make enough money to "buy" his wife (pay for the wedding, which costs about 20 K and lasts two days). He said he really wants to go to college and become a pilot. He speaks very good English for only being here for a year. He said, "I can understand you. I can't understand the people who live where I live, and they say, 'Why don't you talk to us?'"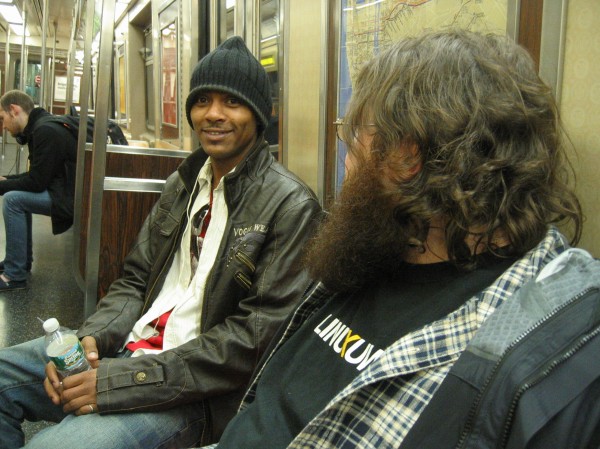 Berck and I got back very late.
Wednesday was my birthday! We went to 2nd Avenue Deli for lunch, where Berck and I split an extra lean pastrami sandwich, some fries, and some borscht with kreplachs.
We told our waiter we'd split a piece of chocolate babka for my birthday. Ben asked if they'd put a candle in it and sing to me, and I told him this wasn't Applebees. But they did! The staff looked very pleased too. Delicious babka, by the way.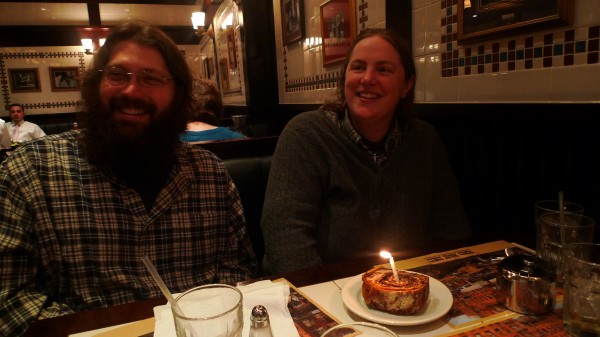 Ben and Amanda had tickets to Wicked next, so they took off, and Berck and I checked the Chelsea Museum to make sure it was open on Wednesdays before heading over there. But when we got there, they said it was closed for a filming but were welcome to explore the bookshop. The amazing thing about Chelsea though is that pretty much every shopfront is a gallery, and you can just walk in and look at the art for free.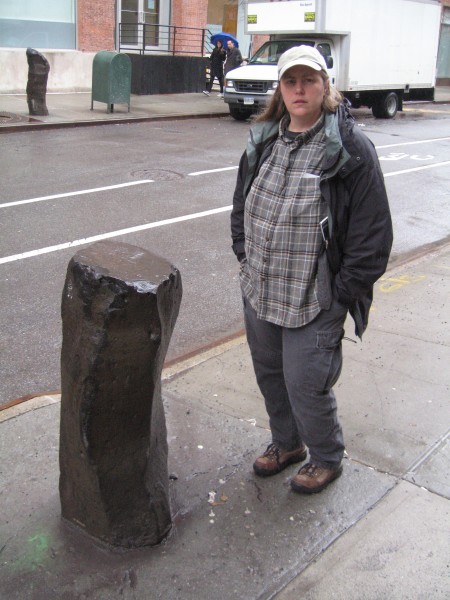 We did that for a while until we got tired and then headed up to Zabar's and got an entire chocolate babka and appetizers for the evening.
We took a crosstown bus back, which just took forever, especially since school had apparently just gotten out. But at least we had seats. We dropped off the snacks at the Kliz and headed over to a great wine store just two blocks away. Great prices, the same as at CLO for a lot of stuff. Got a steal on a couple bottles. Ben and Amanda met us there, Sydney arrived later, and Kelsey arrived from a trip to Costco and then began cooking. He made us quinoa with greens and two kinds of beef and pork tenderloins, which he cooked under the broiler. They were fantastic. We drank lots of wine and then played Celebrity, which we had all played before except for the Kliz.
Here's Kelsey lighting tea lights atop my Zabar's babka: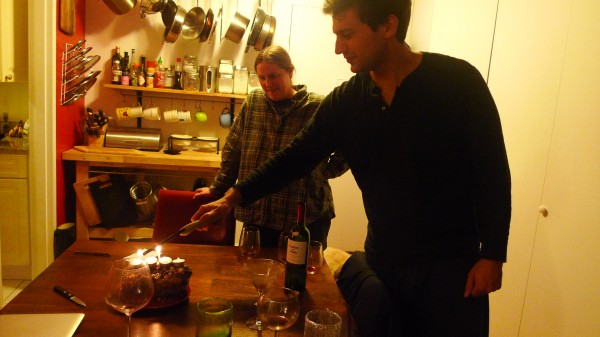 We also all washed clothes, and Ben and Amanda decided to spend the night. The Kliz have a great wide couch that two people can sleep on.
In the morning, Kels made us breakfast bowls and bloody Marys, and Ben and I bought champagne for us girls for mimosas.
Thursday we went to the Whitney. They had an Edward Hopper exhibition, which made me happy. We ducked into a nearby gallery of a Russian abstract painter named Kazimir Malevich after that for free.
We made our way to the East Village and got some dumplings from The Dumpling Man that were yummy.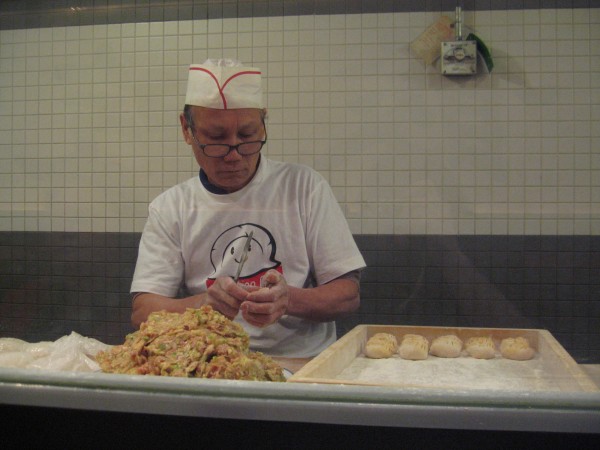 Berck bought a Velvet Underground record. Then we got some Belgian style beer and fries at a place that specializes in Belgian beer. Amanda and I had to wait a long time because Berck and Ben kept yanking to the bartender about beer. That's why we look annoyed.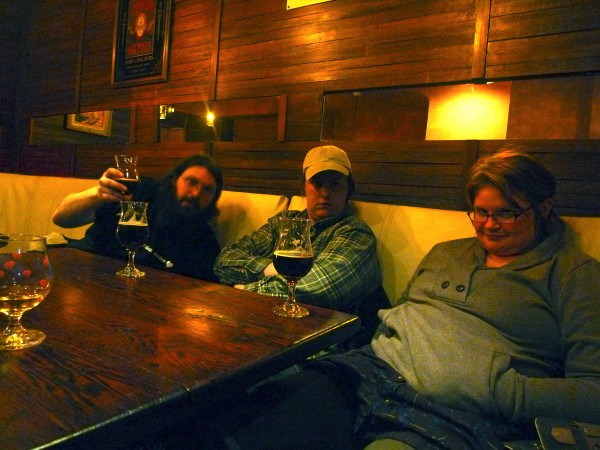 We met everyone else for Indian food at a place that Berck wanted to try. It was not as good as Angon's on 6th, and we felt guilty for betraying Uncle Milton, who always gives us better food, better service, and has better beer! Still, I was pretty happy with the samosas and my chicken korma, which wasn't on the menu, but which they made especially for Liz and me. I've given up trying new stuff at Indian restaurants and just stick with my chicken korma, which I always like better than anything anyway.
Next we walked over to a bar where friends of Sydney were playing. They were checking ID's at the door, but Berck managed to knock over the entire rope chain and pedestals trying to figure out how to get in. The bouncer was so busy yelling at Berck that he didn't look at the picture on my ID, which conveniently had my thumb over it. We managed to find a table for most of us to sit at to watch Sydney's band, who were pretty good.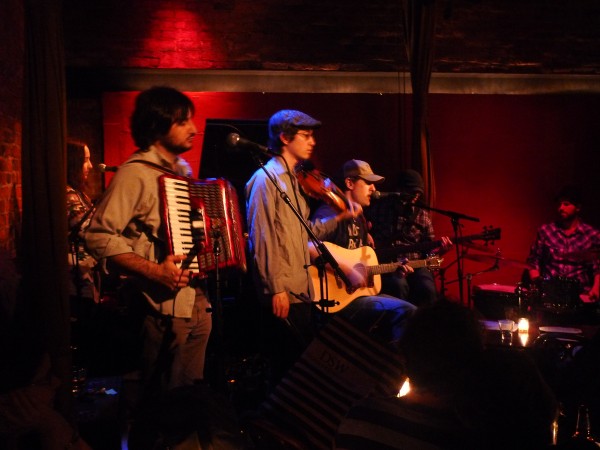 Then Syd had to leave, but Berck's cousin Nicole showed up, and the Kliz stayed for the second band. The space was tiny, but the sound was really good. The second band was called Wyatt, and we liked them a lot, deciding to buy their album when we got home.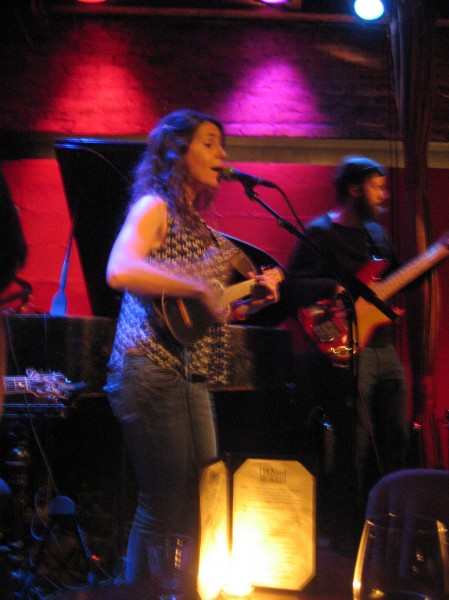 The Kliz had to get home because Liz had to work in the morning, but the rest of us stayed for the third band, which was a really pretty girl with an amazing voice who wrote vapid lyrics for poppy songs but which we really enjoyed anyway. Two other girls joined her on the tiny stage (which also contained a grand piano) to sing, along with a piano player, a bassist, a drummer, and a really good guitarist. It was a great show.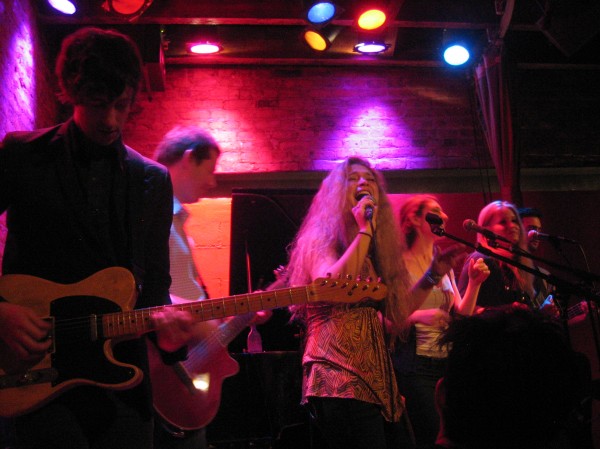 Unfortunately, Amanda was feeling really claustrophobic, so we split and headed over to Katz's at 12:15, but they were closed! So we went next door to Ray's for some bad pizza and, more importantly, bathrooms, before heading to our respective homes.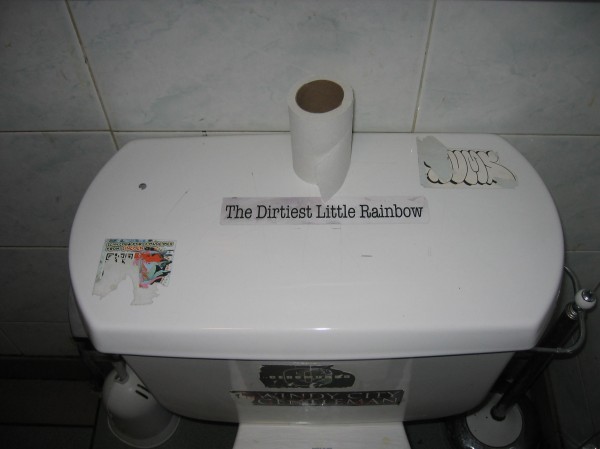 Friday we went to the Moma, which somehow Berck managed to figure out was open late but not that it was FREE an hour and a half after we'd bought tickets. So we had the disadvantage of paying for the privilege of touring the museum that was PACKED with people. The Moma is just huge, but they had an exhibits on fonts that I loved. Berck and I spent the last 45 minutes in there trying to find each other, each ending up in different stairways under different Calder mobiles. We had to text each other because they really don't like you talking on your phones.
Next we tried to go to the Pony Bar, but it was PACKED with Friday night business. We did, however, get some excellent gyro and falafel at a food truck next to it sporting a marque that insisted it had the best gyros in the city. (I asked for a year-oh, and the guy said, "A jie-roh?") It was, indeed, the best gyro I've had in this hemisphere. And he even put fries inside!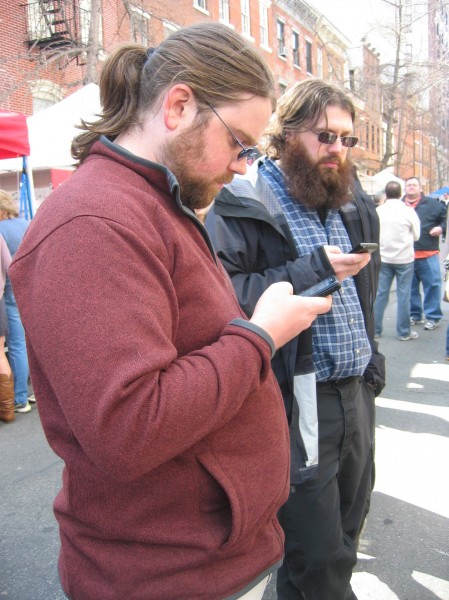 So after figuring out where to go, we headed to the West Village and tried several different bars, trying to find one that wasn't packed and/or checking ID's at the door. We finally settled on the Slaughtered Lamb, where the waitress did check my ID but was so mesmerized by Berck's beard versus his ID photo that she didn't pay enough attention to my ID to care.
Sydney met us there after we had some fried mushrooms, and we headed over to No. 28 Carmine for pizza, which was delicious as always. We also had some great Montepulciano with it. Here's a picture of the fantastic mushroom, prosciutto, truffle oil pizza:
We checked with the staff for the best gelato place, which had changed since the last time we'd asked and was now Grom across the street, which was more expensive but amazing. I got three scoops with deep dark chocolate, candied chestnut, and caramel.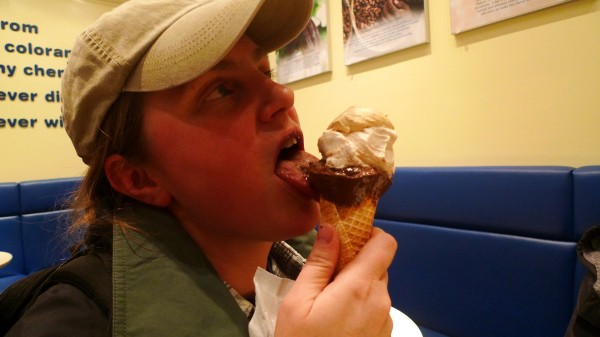 Next we sent Ben to The Bitter End to see who was playing. He called back to say there was just a $5 cover charge but that they were checking ID's at the door. We made a scene when we got there trying to figure out who had cash, Berck paying for me, and me paying for Amanda, who didn't have any cash, and they let us in without checking ID's or even giving Amanda a paper bracelet, so she had to go back and ask for one. We sat in the corner, which was nice in theory, but the benches were terribly uncomfortable. I was so full by then that I didn't really want anymore beer, but there was a two drink minimum a show. The first band was a guy who kind of played bluesy stuff…good band, but he was way too into himself and needed better discriminating taste. The second band was ridiculous with a whole bandstand they set up with blue paisley stands. They had an entire horn section, which would have been cool if they'd actually used them much. Mostly it was just the lead singer/guitarist who wasn't very good at either jamming out by himself. Also it was really loud. I was glad I keep earplugs with me in my bag all the time. I even had extra for Berck. Syd played Angry Birds during the whole show and then left. We stayed for a while then decided to leave.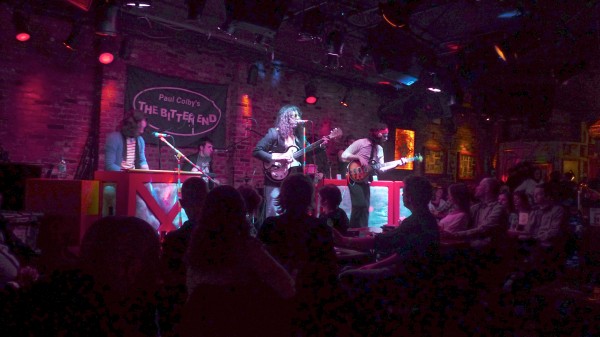 Right then Kelsey was getting off work, so we met up with him. He suggested we pick up halal cart food at 53rd and 6th and meet him back at his apartment where we'd drink beer and Scotch. We hopped on the bus and were at 53rd in no time…the bus just flew as fast as a cab. We got in line at the halal cart with a whole bunch of New Yorkers who were getting food in the middle of the midtown midnight emptiness. The couple in front of us had stopped because they'd seen a line and just got in it. The halal cart had four guys working it like mad, and the line moved fast. You have two choices, lamb or chicken with rice and a couple of pieces of pita. Then you can douse it with white, hot, or BBQ sauce. The hot sauce is REALLY REALLY hot.
Ben and Amanda's week-long unlimited Metro cards had run out, so we took a cab the rest of the way and got to the apartment with the halal cart platters fast. We couldn't eat much because we were full of pizza and because Ben and Berck had put way too much hot sauce on everything. I went around the corner to the store and bought a bunch of Guinness draughts and some Häagen-Dazs Five, and we made some Guinness shakes. Ben and Amanda spent the night again and then left in the morning to go to Brooklyn to take showers and change clothes.
The plan was on Saturday morning we'd all go to the Queens Art Museum, but we slept in so late that only Berck and I ended up going. Ben and Amanda went and got lunch at the Corner Burger in Brooklyn. The Art Museum doesn't really have any art, and what they have is pretty worthless, but that's not why you go. The building was the New York City pavilion at the 1960 World's Fair (you may remember the stuff from Men in Black) and inside it is a gigantic panorama of the entire city of New York. Every building in every borough is there in miniature. Every inch represents every 100 feet. It took 100 employees of the architectural firm commissioned to make it 3 years. Since then it's been updated through 1992, and they're working on getting it updated to today. The World Trade Center buildings are there until they'll be replaced by the Freedom Tower. It is so amazing that Berck and I easily spent an hour just looking at it.
The Queens Art Museum does have one more interesting thing, and that's a giant relief map of the watershed used by New York City. New York has really good water, and the reason why is because IT COMES STRAIGHT FROM THE CATSKILLS. It's mountain water!
Oh, probably the best thing about the museum is that admission is a suggested donation. When Berck asked to purchase admission for one adult and one student, the lady at the front desk said, "Well, we're between exhibits, so how about just five bucks?"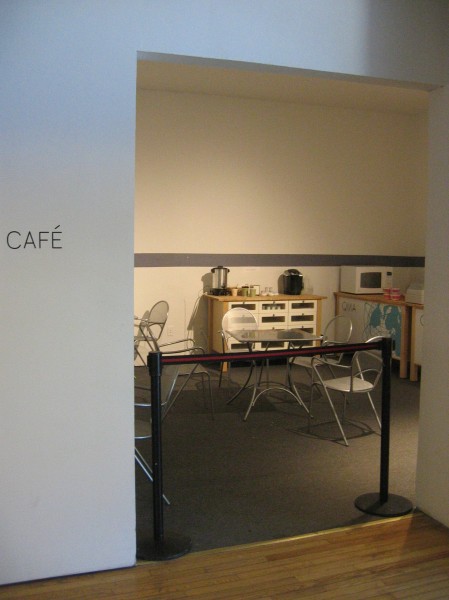 Next we wandered around the surviving stuff from the World's Fair. Crazy stuff.
Then walked back to the 7 train (it's easy to get to) and got a taco al pastor on the way. The 7 train only had Asians on it when we got on it with a bunch of Hispanics, then the next stop only blacks got on.
We met Ben, Amanda, and Berck's cousin Nicole at Mark's on St. Marks for excellent sliders and Guinness shakes. Then we headed over to the Living Room. The guy checking ID's at the door handed me my ID back incredulously saying, "That's not you." I told him my sob story and showed him my copy of my passport and told him I'd just turned THIRTY-SEVEN. He agreed to let me in. He looked half my age.
We listened to excellent live music from three bands for free with 5 dollar Yuinglings. Nicole noticed that the coolest places she's experienced in NYC she's found out from Syd and Kels, and most of those they found out from us, who don't even live there! She wanted to know how we did that.
There was music until 2, but we were knackered, so we went over to Katz's, which was open this time, and shared a Rueben. Then we went our separate ways, and Berck and I waited for half an hour for a bus that was supposed to come by every quarter hour. It took forever to get out of the East Village with all the cabs picking up partiers sitting in the bus lane. We finally got going, and then a guy crashed into Berck stumbling up to the door. The bus driver wasn't quick enough, and the guy vomited on the stairs in front of the door. The bus driver let him finish stumbling off the bus and then slammed the doors shut and took off. It had taken us so long that another bus on the route PASSED us before we got to our stop. It was hard to see the street signs out of the darkened bus windows, but the driver was nice enough to not only tell us when to get off but to stop at 89th where there wasn't even a stop so we didn't have to walk a block. Took an hour to go 89 blocks. We got home right before Kelsey did getting off work. He and I had a Guinness/Famous Grouse bomb before bed.
We slept in and then headed to Bklyn and met up at Syd's. Ben had decided that we would get brunch at Scottadito, the Italian restaurant I'd picked for Syd's graduation dinner, because they had unlimited mimosas. I was thrilled because I got some tagliatelle with brie, arugula, speck, and truffle oil. Berck got something else figuring we'd share. Next time I'm announcing that he needs to get his own!
Stumbling back to Sydney's, Ben stopped and got O.J. while Syd and I got some Prosecco. Berck, of course, had to go straight to the bathroom. We took Aunt Debbie's glasses up on the roof and made more mimosas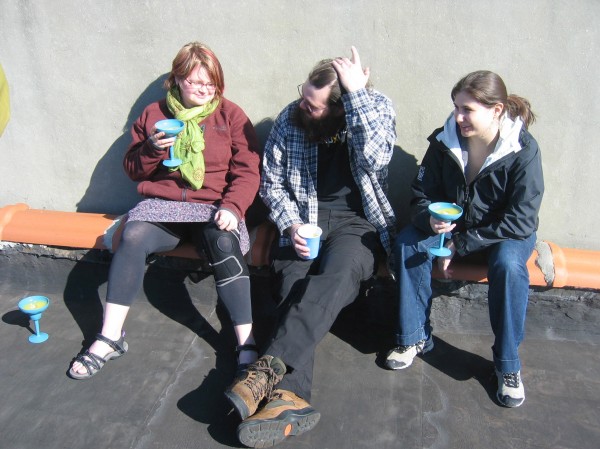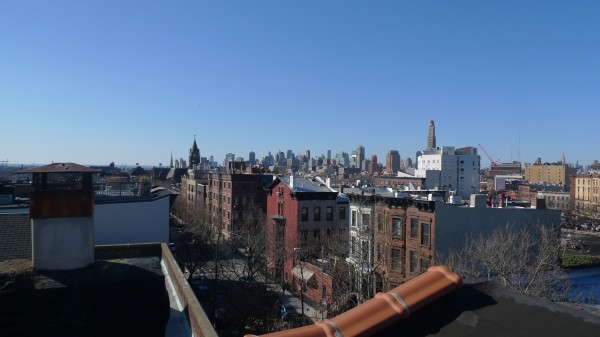 Then we all headed to the airport together, stopping for one last bagel at Bergen.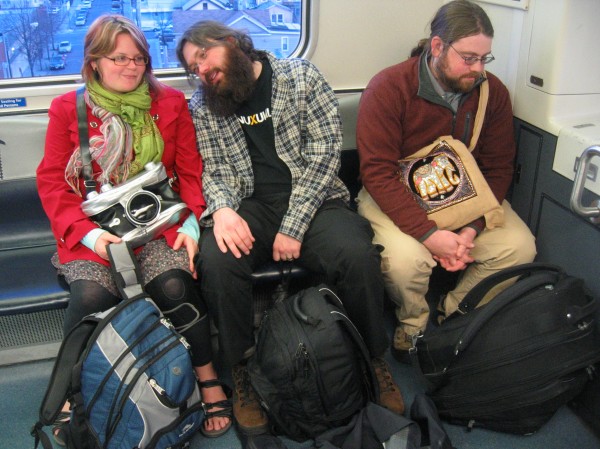 The JFK TSA were much less nice than Denver had been. A large black woman with a Caribbean accent yelled at me for not bringing my ID. They wouldn't let me continue until I showed them a prescription bottle with my name on it that I'd happened to put vitamins in. She told me that my name was now on "the list" and that they would not be letting me through if this happened again. I tried to keep from laughing because I know that there is no "list," and even if there were, she wasn't making any effort to add my name to it. Instead I just apologized and promised that I would double check to make sure I had it before each future flight. Then they told me to put my stuff through the X-ray machine and for me to stand in a corner. At that moment, I remembered I had a box of matches in my pocket, so I slipped it out and threw it into a corner. Then a very nice Indian woman took me over and explained in detail that she was going to search me thoroughly. I think she spent more time explaining than she actually did patting me down, and she didn't even touch my crouch. She seemed more interested in my waistband. Then she went through my bags, which Ben and Amanda had been watching for me, although, apparently, they weren't supposed to be, swabbing the insides for explosives or something. Finally, she handed me back my boarding pass and I packed up everything and continued down the concourse. I'd gone a little ways when I realized I didn't have my boarding pass. I went back to the desk where I'd been searched, but the TSA agent simply reminded me that she'd handed it back to me. Fortunately, I had the one that Berck had printed out at the Kliz, which didn't have a barcode. We said our goodbyes to Ben and Amanda and then went to our gate, which was surprisingly crowded for JetBlue. The gate agent didn't blink at my self-printed boarding pass (which I'd scribbled a little swirly on).
The flight back was very long and very hot (probably 85 degrees) where we were sitting. Even I was hot. I spent the whole time writing this. We'd had to park in the Mt. Elbert parking lot, which is located in western Kansas, and it took forever for a bus to arrive and then load. Then we'd failed to remember where we'd parked (I actually knew, but the buses enter the lot in a different place than the cars, so I knew where the car was in the lot, I just didn't know where WE were), but we found it without any trouble, fortunately. We listened to a This American Life on the drive home and finally got in at 2 a.m. We'd left Sydney's at 6:15 p.m. EDT.
I spent the week working 11-hour days making up for the week I'd taken off to augment my vacation time.
I hope Berck doesn't want to go back to NYC anytime soon. It's just such a long trip.
But if he does, I'll make sure I've got my ID with me. In fact, I'll take two. No, three.
Thanks to Ben for a lot of the photos. We'll have more in the gallery soon.