We had a graduation party for Berck on Saturday. Â I made a fruit pizza!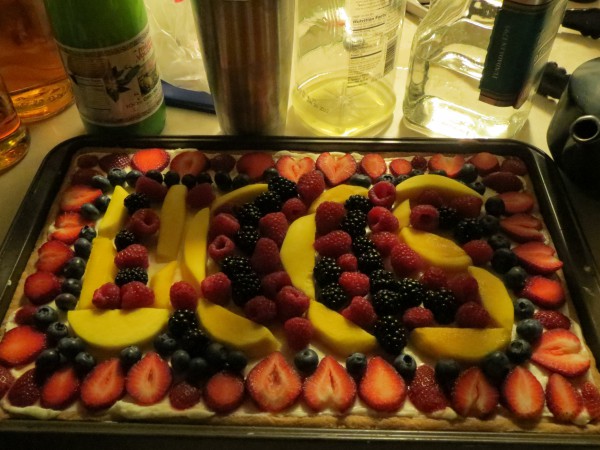 I made for 4th of July two years ago.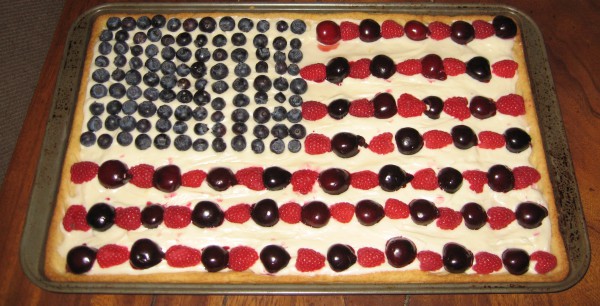 I had a request for the recipe, so I thought I'd put it here. Â Fruit pizza is really simple…just a sheet of sugar cookie dough, frosting, and fruit. Â Here are the recipes I use for the cookie dough and frosting.
Old Fashioned Tea Cakes
This is my favorite sugar cookie recipe, and it comes from Sue Robinson.
1 cup butter
1 3/4 cup sugar
3 cups self-rising flour
2 teaspoons vanilla
If you don't have self-rising flour, like I never do, just use
1 cup of all-purpose flour
1 1/2 teaspoons of baking powder
1/2 teaspoon of salt
Cream butter and sugar. Â Add eggs and vanilla. Â Gradually stir in flour. Â Dump the whole thing on a big cookie sheet and spread evenly. Â Bake at 350 for at least 20 minutes. Â It will probably take longer. It will start browning on the edges.
I like to use cream cheese frosting, and it's super easy to make.
4 ounces butter, softened
4 ounces cream cheese, softened
2 cups powdered sugar (actually more)
In a large bowl, beat together the butter and cream cheese with an electric mixer. With the mixer on low speed, add the powdered sugar a cup at a time until smooth and creamy. Add more powdered sugar until it's the consistency you want.
Spread the frosting on top of the cookie. Â Then decorate with fruit! Â My favorites to use are blueberries, raspberries, blackberries, strawberries (sliced), and cherries and grapes (cut in half). Â Also good are kiwi, and I had good success with mango on my last one. Â I hear mandarin oranges work well too. Â Pretty much any fruit will do. Â If you use apples or bananas, fruit that brown when cut, dip the cut fruit in lemon or pineapple juice to keep them from browning.