by Jonah
Tonight we played Balderdash with cousins.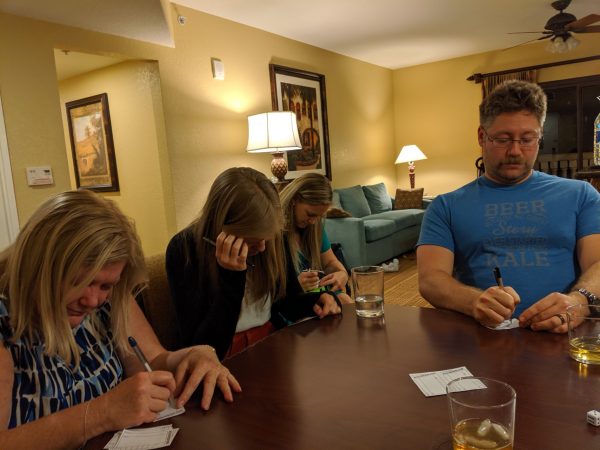 I had pumpkin pie with ham (long story… well, not really… I just asked for pumpkin pie with ham and I got it). But we really wanted something to eat on the way home from Orlando to Apopka. Berck convinces his mom to get off a highway that starts with a 4, which are all the highways in Florida, to stop at a Krystals. Because we don't have those in Colorado. She really doesn't want to, especially since it was between two pawn shops and a liquor store (THAT part of town), but she does. Berck orders some Krystals burgers with extra mustard and some chicks. I ask for a large sweet tea. Berck orders me a medium sweet tea, and I didn't argue, because it's past midnight and more caffeine at this point is simply not necessary. We get our order at the drive-through window, and then Berck says, "They put CHEESE on these!" and orders his mom to drive back around through the drive-through. Right then, a white dude with dreads and obviously suffering a psychotic break throws himself onto the pavement in front of us and starts hollering and thrashing about. My mother-in-law, who doesn't want to be there but who has been ordered to drive back around to the drive-through windows, starts driving forward, and Berck yells, "DON'T DRIVE OVER HIM!" We manage to miss the psychotic break-dancing and proceed to the drive-through window, where Berck complains that we didn't order cheese on our Krystals. We get some replacement Krystals and then continue on our way. (The schizophrenic dude has now picked himself up and started down the sidewalk.) We have an argument about navigation, but the computers want us to go one direction, and Berck's mom prefers to rely on her memory of the roads in the area. We take a road heading north called Apopka Vineland Road, which Berck's mom refuses to believe actually goes to the town of Apopka, where she lives. Berck is trying to convince her that the reason they called it that name was because it goes from Vineland to Apopka. That's when we get to a train track with the gates down and the lights flashing. Several cars in front of us are driving around the tracks, because, it is pretty obvious that the crossing warnings are malfunctioning. There are three possibilities at this point: take our chances flaunting the crossing signals, turn around and try a different route, or stay there indefinitely. Berck's mom decides to turn around and try a different route. We take a detour and end back up on Apopka Vineland road, which, spoiler alert, ends up in Apopka.
Today I'm grateful for my long-suffering mother-in-law who takes us to get Krystals, even when she really, really would rather not.